Our Lady of the Angels Discernment Retreat
Our Lady of the Angels monastery in Crozet, VA
We are hosting our next discernment retreat on September 26, 27.
It will start on Saturday at 9:30 am and finish on Sunday at about 3:00 pm. During the weekend, there will be time for prayer with the community, sharing among the young women participating, and some presentations about how to discern your vocation, with practical tools to grow in self-knowledge and to learn listen to God in prayer and our daily life.
We invite single Catholic women from 18 to 40 years of age.
The participants will sleep in our retreat cabins and we will provide all the meals.
Please contact Sr Maria at vocations@olamonastery.org.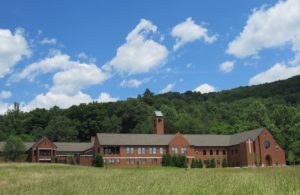 "Listen", the first word of the Prologue of the Rule of Saint Benedict, opens the spiritual path of the Benedictine-Cistercian tradition. This way is embedded in the Word of God: "This is my Son, the Beloved; with him I am well pleased; listen to him" (Mt 17:5). Listening to the master who wrote the Rule teaches us how to listen to Jesus, our true Master. St. Benedict teaches us about community—the place where we learn to listen. He encourages us to foster silence, the necessary interior space where we can welcome God's word in the liturgy and fraternal life. And he presents to us humility and obedience as the essential lessons of his school of divine service. These are among his greatest tools for returning to God because they are basic attitudes which make listening possible, freeing us from self-centeredness.
Jesus needs souls who listen to him in silence. As noise and chaos seem to get louder in the world, these words of our dear Rafael, the latest canonized saint of our Order, resonate today with even greater urgency. Would you respond? Our spiritual tradition has led thousands of men and women through the centuries in the search for God; thousands who realized that there is nothing sweeter than this voice of the Lord calling to us. See how the Lord in his love shows us the way of life (Rule of Saint Benedict Prologue 19-20). Don't be afraid, the first lesson of our school of love and divine service is very simple: incline the ear of your heart and say "Speak, Lord, your servant is listening" (1 Sam 3:9).