Gethsemani welcomes Postulant Timothy
Please join us in welcoming Timothy Weaver to the Abbey of Gethsemani. Hailing from Ohio, Timothy entered as a postulant on Dec. 8.
As a postulant, Timothy will join Br. Godric and Fr. Jean De Dieu in the novitate for classes and work assignments.
After the six-month postulancy, Timothy can request to be accepted as a novice. At that point, he will take a monastic name and habit, be addressed as "Brother" and begin taking on liturgical duties.
Please join your prayers to ours for Timothy as he discerns God's call.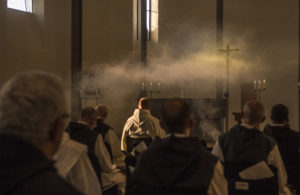 Do you think you might have a vocation to the Trappist life? Are you curious if the Abbey of Gethsemani might be the place for you? Contact Gethsemani's vocation director via this site or email Fr. Anton directly at vocations@monks.org. You can also visit their website at www.monks.org.