Sister Annie and Sister Mary Therese are New Novices at Mississippi Abbey
On Monday, August 15th, the feast of the Assumption of Mary into Heaven, our two novices at Our Lady of the Mississippi Abbey, Sr. Annie Rose Marie and Sr. Mary Therese, received the Cistercian habit after Chapter. The event brought great joy to all in the community. The two novices served as gift bearers at Mass. At dinner we had a special celebratory meal.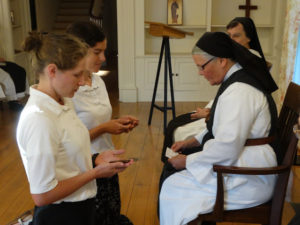 To see more pictures of the Clothing, visit http://mississippiabbey.blogspot.com/
Please pray for Sister Annie, Sister Mary Therese and all of our Order's monks and nuns.
For those interested in exploring joining our way of life, we invite you to visit our page Becoming a Trappist