Monastic Experience at Santa Rita Abbey
Santa Rita Abbey Monastic Experience Weekends
Come Take A Closer Look At Trappist Cistercian Monastic Life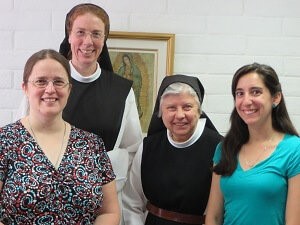 2023 Weekend
Friday, October 6 -Monday, October 9
Pray, Learn, Rest & Reflect
Monastic Experience Weekends are for single, Catholic women ages 21-40 who are curious about the lives of contemplative nuns and discerning a call to religious life.
What happens during the weekend?
Monastic Experience Weekend participants are able to:
stay in our retreat house
take part in the prayer life of the sisters
participate in community work
hear sisters' vocation stories and share their own
There will also be:
opportunities for group and individual discussions with sisters
free time for personal prayer and reflection.
For for information and online application visit us at: Monastic Experience Application