Brother Placid
Genesee Abbey
I am a convert to Roman Catholicism and I come from rural Central New York. My journey, which eventually led to the monastery, began by growing up in the Methodist church. When I was younger my family stopped attending church services. It wasn't until college that I began to go to church regularly. This was only because I was studying Music and was in the Worship band. I figured Baptism wouldn't hurt. And so I was baptized by full immersion August 8, 2010, with several others from the church.
That fall my actual conversion took place. I had been leading a very selfish life that included many self-destructive habits. These only helped me become increasingly more depressed and isolated. One night, feeling very depressed and lost, I tried to find someone on my phone who I could call and cry to [Ps. 119 (120)]. Finding no-one, a familiar catch-phrase came to mind, "Call on Jesus". I didn't have anything to lose. And in the simplest way I could, I asked Jesus "What do I need to do to be happy?". Immediately everything became so clear and Jesus spoke to me. He said to me, "You need to quit smoking, drinking, and doing drugs and turn towards me" (convert). "Just turn towards me."
From that peak experience, I learned that: 1. Jesus is a person. 2. He is alive. 3. He loves me. Instantly a relationship was established. And this relationship is the foundation of my vocation in the monastery. I heard the call to the monastic life while I was working. I was thinking about the story of the Rich Young Man and Jesus (Mk 10:17-22). At the end Jesus invites the youth to sell all his possessions and to follow Him. But because he was too attached to his things, the young man goes away saddened. I said to myself, "If Christ was standing next to me and asked me to give up everything I had, I'd do it." And He said to me, "Would you really?" Time stopped and it seemed like my whole life depended on how I answered this question. "Yes," was the only answer I could give. He said to me, "Prove it!"
That was early in 2011. Beginning with a friend from High School, I learned about the Catholic Church and eventually monasticism. I was received into the Church at the Easter Vigil, April 8, 2012 in St. Mary's Roman Catholic Church in Hamilton, New York. On April 28, 2012, I entered another monastery. Through that monastery, I learned about the Trappist Abbey of Our Lady of the Genesee. After a total of 2 years of religious life, I entered the Genesee Abbey two different times, the first in 2014 for 3 months, the second in 2016 for 13 months. I entered for the third time on January 7, 2019, and am finishing the 1st year of the 2 year Novitiate here at the Genesee.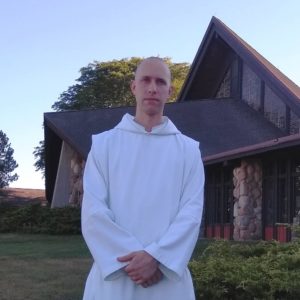 I would like to write something for those who are discerning a call to our way of life: Community Life in the monastery will stretch you in ways you never thought possible. You will come face-to-face with the Truth about yourself. Many times this Truth is not pretty since we all come in with a certain brokenness. The acceptance of the community has been a great blessing for me and has allowed real trust to grow. This acceptance and trust has given me the opportunity to gain traction in my spiritual life. I have realized that I need the support of the brothers. And most importantly, Jesus called me to this life, in spite of my sins. He may be calling you. +Placid