Father James
Holy Cross Abbey
My friends from college have never questioned my choice of a small community with its artless buildings and endless responsibilities. People who have met me after I entered Holy Cross Abbey, who know me less as a friend and more as the persona masking my responsibilities, do wonder. Wouldn't someone with a background in art history, someone who worked in museum-education, someone with a lively interest in music want to join a large community with more possibilities for leisure, for a great choir, an impressive architectural plant? Perhaps they don't know that working in remedial education with inner-city kids, doing intervention work in the criminal justice system, helping out in soup kitchens, working with the Catholic peace-movement more than relativized my esthetic interests. In fact, it was something of a struggle to give up those commitments and trust that monastic life was another way to be a disciple of Christ.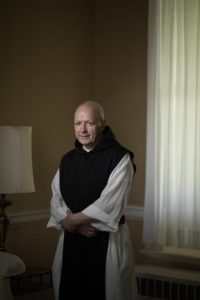 It would take me decades to appreciate how a life of prayer, of self-knowledge, of service to my monastic community, mundane work and community meetings, stewardship of land reaches beyond the Abbey's boundaries and impacts the Church and our neighbors. I won't try to explain that here and now. But if that was not entirely comprehensible when I entered Holy Cross Abbey thirty-four years ago, a small community, less than twenty monks, was comprehensible.
I had tried my vocation earlier in an active Order and the last formation community I had lived in was composed of some 86 members. I knew from that experience that I wanted to live with fewer people. I also knew I wanted to live in a poorer community where I could feel the pinch of economizing and couldn't evade accountability; where I couldn't hide from people and our misunderstandings, where I'd have to face the insoluble differences. I like that clarity.
Living in a small community is not unlike worshipping in our simple monastic chapel. On one level, what you see is what you get—take it or leave it. Yes, I like a clear view. On another level, there's nothing extraneous, no fine art, no crutches, no substitutes or pretensions. It's God and the community. Sometimes it's elusive God and the community; sometimes it's patient God and our peevish, struggling community; sometimes it's God shining through the transparent community, so patient and forgiving. Often, it's God, simple and incomprehensible, and the plain old community—and it's wonderful when that relationship can be so familiar and familial. That unadorned simplicity really feeds me.
I find that this small community feels like a family and that's important to me. My Mom was Italian so the appreciation of family is in my genes! God, knows, we're not an ideal family but neither are we a dysfunctional family. I'm sometimes reminded of that odd family of siblings, Martha, Mary and Lazarus, where Jesus felt at home. I hope this doesn't sound mawkish, but in our odd little family, Jesus seems to be at home and it's here I can recognize him.