Snowmass New Solar Panel System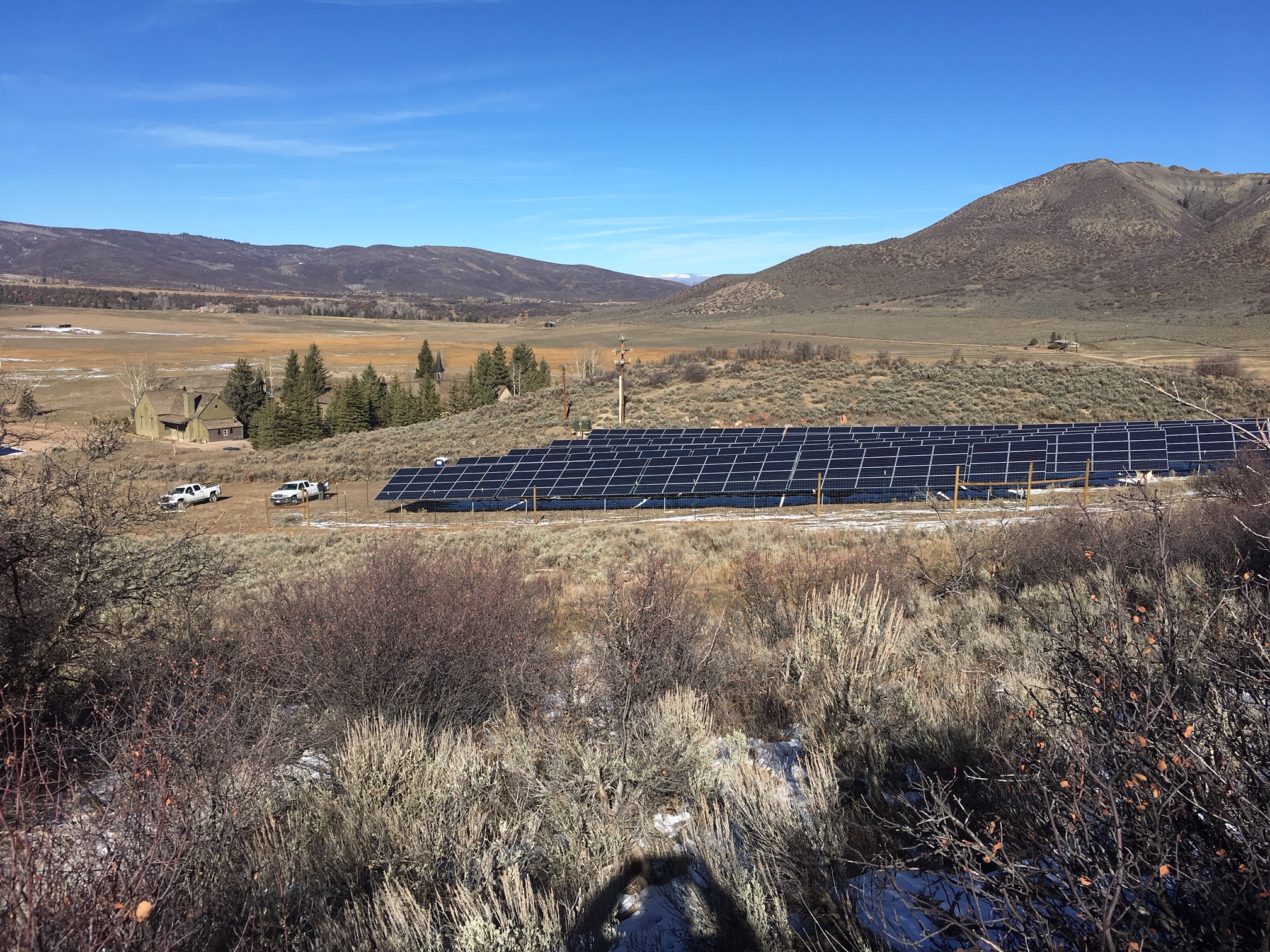 On January 3, 2019, after 2 ½ years of planning and construction, St. Benedict's Monastery in Snowmass began operation of a 624 panel ground mount solar photovoltaic system designed to generate 204 Kw and provide 100% of electrical energy required for the operation of the monastery and retreat house. The solar array occupies a 1/5 acre parcel of uphill sloping contoured land immediately behind the main building and is not visible at ground level.
Under the direction of Fr. Joseph Boyle, late Abbot of St. Benedict's, the project was conceived not only to reduce the cost for electrical energy to run the monastery operations, but in response to Pope Francis' encyclical on the environment to help reduce the impact of carbon emissions on the environment. Holy Cross Energy estimates that the photovoltaic system installed at the monastery will prevent 486,000 lbs. of CO2 from entering the atmosphere.
Energy generated from the solar array will be fed directly into the Holy Cross Energy electrical grid, with Holy Cross providing credit to the monastery for each kilowatt hour produced. Under the terms of a 20-year agreement, the surplus produced in excess of the monastery's needs will be credited to St. Benedict's at the prevailing retail rate to provide funding for the maintenance of the system.
The total cost of the project was $498,600, funded by St. Benedict's Monastery, grants from the Susan and Ford Schumann Foundation and Schumann Media Center, and a Randy Udall Pioneer Grant from the Community Office for Resource Efficiency in Aspen, CO. General & design contract services for the solar system were provided by Sunsense of Carbondale, CO utilizing labor and subcontractors locally sourced.
In an interview conducted on the first day of operation, Fr. Charles Albanese, recently elected successor to Abbot Joseph Boyle, stated that the project continues the tradition of respect for the environment and care of the land which has always been a fundamental value of Cistercian monastic life and practice. "This place – this sacred valley – is a gift from God to cherish and our privilege and responsibility to preserve. We are grateful to all who assisted us in the successful completion of this project."