Assumption Abbey transferred to Common Observance Cistercians
While transfer of a monk from one monastery to another happens from time to time, the transfer of a monastery from one religious institute to another is exceedingly rare – and took place on August 15.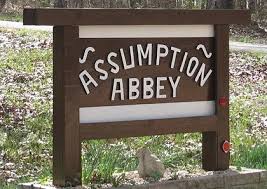 Assumption Abbey, in Ava Missouri, was a community of Trappist monks founded by New Melleray Abbey in 1950 For many years, the community at Ava has had difficulty attracting and retaining new candidates with the result that, there are at present only about five elderly Trappist monks still residing there. Several years ago, in a most unusual development, several Cistercian monks from a monastery in Vietnam approached the community and proposed sending a few from their community to live with the Trappists. In Vietnamese culture there is great care and reverence for one's elders and the Ava Trappists were charmed by the arrival of these able-bodied brothers who were pleased to support and provide for them in their later years. Discussions ensued about the possibility of transferring the monastery to the "Order of Cistercians", (Or Cistercians of the Common Observance), at a point in time agreed upon by all parties involved. Monasteries in Vietnam are presently receiving many candidates and this community wished to make a new foundation in the U.S.
Their offer to come and live at Ava permits the old monks there to finish their days in the place and on the site where they took their monastic vows many years ago. They were very grateful for this arrangement which they prefer to transferring to another monastery. So, on August 15, in a formal ceremony, Assumption Abbey was officially transferred from the "Order of Cistercians of the Strict Observance", (Trappists), to the "Order of Cistercians".
The Trappist monks will remain Trappists, but instead of hosting their Vietnamese brothers, will from now on, be themselves the guests of the Vietnamese community and true brothers in Christ. While the monastic life-style and culture of the two institutes is very similar, it is not identical. Prayers are appreciated for the Trappist brothers who will need to make some adjustments and also for the Vietnamese brothers who face all the challenges of making a new foundation and that these men from Vietnam are able to live in peace with their neighbors. And in all things may God be glorified!