Trappists represented at LA Religious Education Congress
Sister Suzanne & Sister Ann Marie from Our Lady of the Redwoods Abbey and Brother Christopher and Brother Francis from New Clairvaux Abbey teamed up to staff a booth at the 2020 LA Religious Education Congress: Trappist West: Monks and Nuns.
The Religious Education Congress, sponsored by the Archdiocese of Los Angeles Office of Religious Education, is the nation's largest annual gathering of Roman Catholics! There were 178 Speakers in three languages at the Congress and 295 Total workshops. Attendees were from 16 foreign countries and from 47 different states in the United States.  11 Eucharistic Liturgies of different character were held, including Celtic, Contemplative, Indonesian, and Mass for the Evangelization of the Peoples.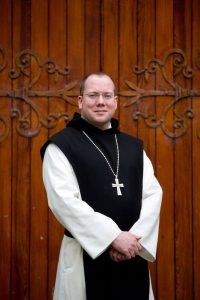 In addition, Dom Richard Purcell of Mount Melleray Abbey, abbot of New Melleray Abbey's Mother House in Ireland was a presenter at the Congress. After visiting New Melleray in Iowa, Abbot Richard traveled west to take part in the Los Angeles Religious Education Congress. Abbot Richard had been approached after a Mass he presided at in his monastery and invited to California to speak. Having discussed the matter with his bishop and been encouraged to go, Abbot Richard spoke to Religious Educators about the Rule of St. Benedict and its formative influence in the life of a monk. He also presided at the Celtic Mass held in the huge auditorium.