Mepkin Abbey acquires artwork by renowned sculptor Hubert Van Zellar
On June 16 of this year, Mepkin Abbey was gifted with two sculptures by the famous Benedictine Monk of Downside Abbey in England – Dom Hubert Van Zeller. Father Van Zeller was an author, cartoonist and sculptor.
These were the gift of Gerald Griffin Hogan and Katherine Eglet Hogan of Charleston and Kiawah Island SC. Mr. Hogan's father – Gerald Hogan – was a Catholic book publisher (Templegate Publishing House ) and a religious goods store owner who published many of Fr. Zeller's books . Fr. Van Zeller was a close friend the Hogan family. The statutes were gifted to the Hogan family.
The statue of the Blessed Mother was sculpted in 1961 and 1962 and St. Joseph the Carpenter sculpted in 1962 at Downside Abbey, England. They were sculpted out of cream to brown – Doulting stone. These beautiful works are now in the niches in the breezeway of the Abbey.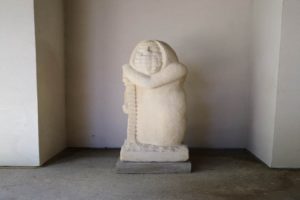 As a welcoming sign to all who enter, they stand to guide the monks and all visitors into the very meaning of the contemplative life of the monastery. Both Mary and Joseph always responded to the Will of God with the deepest attention to the movement of the Holy Spirit in their hearts. May all who seek to live by the inspirations of the Spirit be inspired by these holy sentinels.