Br. Scott professes solemn vows at Guadalupe Abbey
On the Feast of St Benedict, July 11th, the monks of Guadalupe Abbey celebrated Br Scott's Solemn Profession. The celebrations, and festivities afterwards, brought much joy to us all, especially after the long period of Covid Lockdown. It was the perfect 'release!' Present were his family, parents Patrick and Dianne, brothers Mark and David and many nieces and nephews. We trust in your prayers for Br Scott as he continues his monastic journey with the Lord and with us.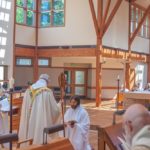 Please pray for Br. Scott and all of our Order's monks and nuns in formation.
For those interested in exploring joining our way of life, we invite you to visit our page Becoming a Trappist