New Novices for Holy Cross, New Clairvaux and New Melleray Abbeys
Several communities in the US Region of the Trappist Order clothed new novices this Spring:
HOLY CROSS ABBEY– Berryville, VA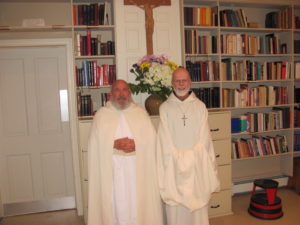 It was a joyous occasion when Brother Patrick (having completed his postulancy) received the Cistercian Habit and began his Canonical Novitiate on March 25, the Solemnity of the Annunciation of the Lord. He now joins Brothers Paul and Aelred in the novitiate as he (and they) prepares for first vows. Join us in thanking God for calling these three men and let us pray for their perseverance and flourishing in what Saint Benedict called, this School of the Lord's Service and which our Cistercian Fathers called, this School of Charity. And may the same Lord bring us all together to Eternal Life!
NEW CLAIRVAUX ABBEY– Vina, CA
On the celebration of the Annunciation of the Lord, March 25, Fr. Steve Valeo, a diocesan priest from Detroit, MI, completed his year of Postulancy and was received into the Novitiate, taking the name of 'Fr. Aelred', after St. Aelred of Rievaulx, a 12th Century Cistercian abbot and spiritual writer.  As a novice monk, he will be given new responsibilities in community service and initiated into the next level of formation, beginning our Guided Reading program in which he will go through the writing of the Fathers of the Church and our own Cistercian Fathers.  The novitiate last two years after which the novice is eligible to make first monastic profession of vows.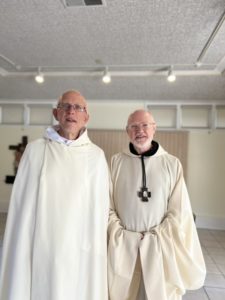 NEW MELLERAY ABBEY– Peoria, IA
Fittingly occurring on March 27, Laetare (Rejoice) Sunday, Br. Charles Ross received the novice's habit as a member of the community. Together with the habit, he chose to be henceforth called "Br. Philip." The novice has the option of retaining his baptismal name or assuming a new name to signify the fundamental change that monastic life and conversion will demand of his person. Br. Philip is 43 years old and most recently lived in Clinton, Iowa. He served in the U.S. Marines for four years and then worked as a mechanical engineer. He visited New Melleray a number of times before deciding to join the community. He is mature, deeply committed to following Christ and to placing his trust in God as he meets Him in our community life. We ask prayers that the grace and Spirit of Christ may be alive in his life.
Please pray for Br. Patrick, Br. Phillip, Fr. Aelred and all of our Order's monks and nuns.
For those interested in exploring joining our way of life, we invite you to visit our page Becoming a Trappist