Sr. Sharon's first vows and monastic profession at Santa Rita Abbey
MARCH 25, 2022: SR. SHARON'S SIMPLE PROFESSION- Sr. Sharon Bezner entered the community of Santa Rita Abbey as a postulant in 2019 and was clothed as a novice on March 25, 2020. After three years of prayer, study, spiritual direction, work, and the daily living of the monastic life in our community with all its joys and challenges, Sr. Sharon was ready for the next step in her vocation journey. During our community chapter on March 25, the feast of the Annunciation of the Lord, she made her first vows. The Annunciation is a perfect feast for such an occasion! Sr. Sharon made the Blessed Virgin Mary's "fiat" her own as she professed the traditional vows of obedience, stability, and conversion of life according to the Rule of St. Benedict and the constitutional norms of our Order. Sr. Sharon will continue her spiritual formation, living, praying and working within our community. Please keep her in your prayers as she continues her monastic journey.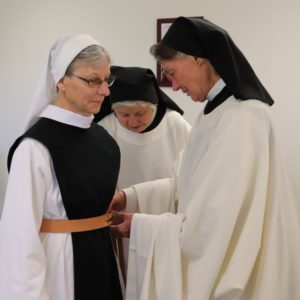 Read Mother Vicki's Chapter Talk for the occasion
Please pray for Sr. Sharon and all of our Order's monks and nuns.
For those interested in exploring joining our way of life, we invite you to visit our page Becoming a Trappist