Medieval stones beatify the walls of New Clairvaux Abbey
Sacred stones now grace the walls in the Plaza leading to New Clairvaux Abbey's Church.   In 2018 the monks of New Clairvaux completed the reconstruction of the medieval Chapter House of Santa Maria de Ovila Abbey to use as their permanent Church.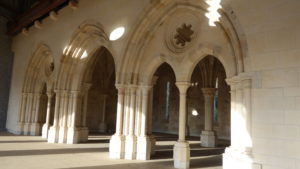 The Chapter House dated from 1190 AD and served the Cistercian community of monks at Ovila, located in Northeast Spain for hundreds of years before being disbanded in the 1830's.  The many buildings of the Ovila monastery were eventually dismantled and shipped to America, where the New Clairvaux monks acquired and salvaged building called the Chapter Room.  However there remained stones from other buildings in the collection, and with the help of expert stonemason, Frank Helmholz, and funding  by the Hind Foundation of San Luis Obispo, the project of inlaying the ancient stones into the plaza courtyard is nearing completion.  We are grateful to Mr. Helmholz for his artistic mastery of an age-old craft that continues to bring value and meaning to all who witness it.