Gethsemani Celebrates Church Dedication
Gethsemani Abbey celebrated the Anniversary of the Dedication of the Abbey Church on Nov. 15, 2020. The Abbey was founded in 1848, but it took years of hard work before the church was fully built and consecrated in 1866. It was then re-consecrated on the same day in 1967 after the church was remodeled and a new altar installed.
The anniversary of the church's dedication is celebrated as a Solemnity. It is also the one day each year when candles are hung and lit throughout the nave of the church. Visitors to the monastery often inquire about the small black crosses on the walls in the nave. They are niches in which candleholders are mounted, marking the 12 places where the church was anointed at its dedication.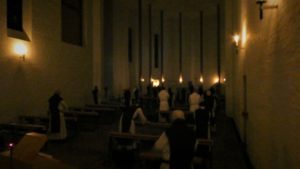 This year's feast marked nearly nine months since the abbey closed to the public due to the pandemic. While guests and retreatants were unable to participate in the celebration, the monks continue to include them and all the world in their prayers.